NJCFCA Leadership Conference
NJCFCA 9th Annual Leadership Conference
October 14, 2021
ATTENDEE registration is CLOSED
CLICK HERE TO REGISTER
We are honored to have Anibal Saez, Jr., Assistant Fire Chief (Ret.) come share his experiences as the lone off-duty Chief Officer to respond to the Pulse Night Club attack. During the incident Chief Saez was the acting Bomb Squad Commander for the Orlando Fire Department.
CLICK HERE TO REGISTER AS A SPONSOR
If your looking to connect with New Jersey's Fire Service Leaders, our annual leadership conference is what your looking for!
Sponsorship opportunities are limited so be sure to register today!!
To learn more about our 2021 sponsorship opportunities Click here.
Tables will be reserved in the order of registration. Please review available tables below and email conference@njcfca.org with your preferred table choices based on availability. If you have questions please contact us at conference@njcfca.org .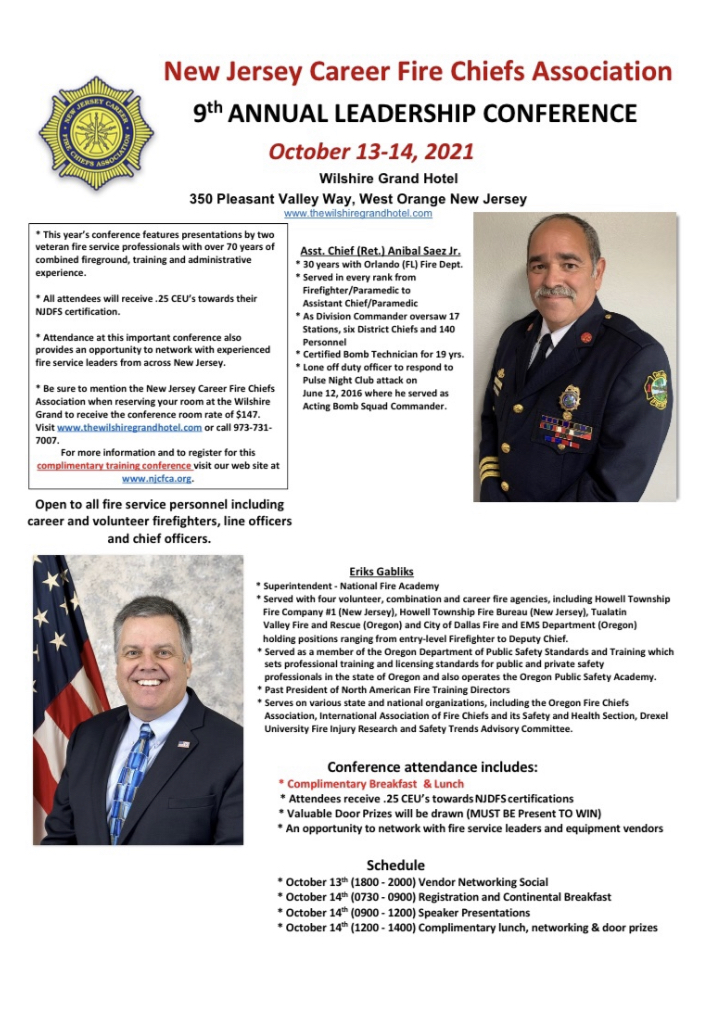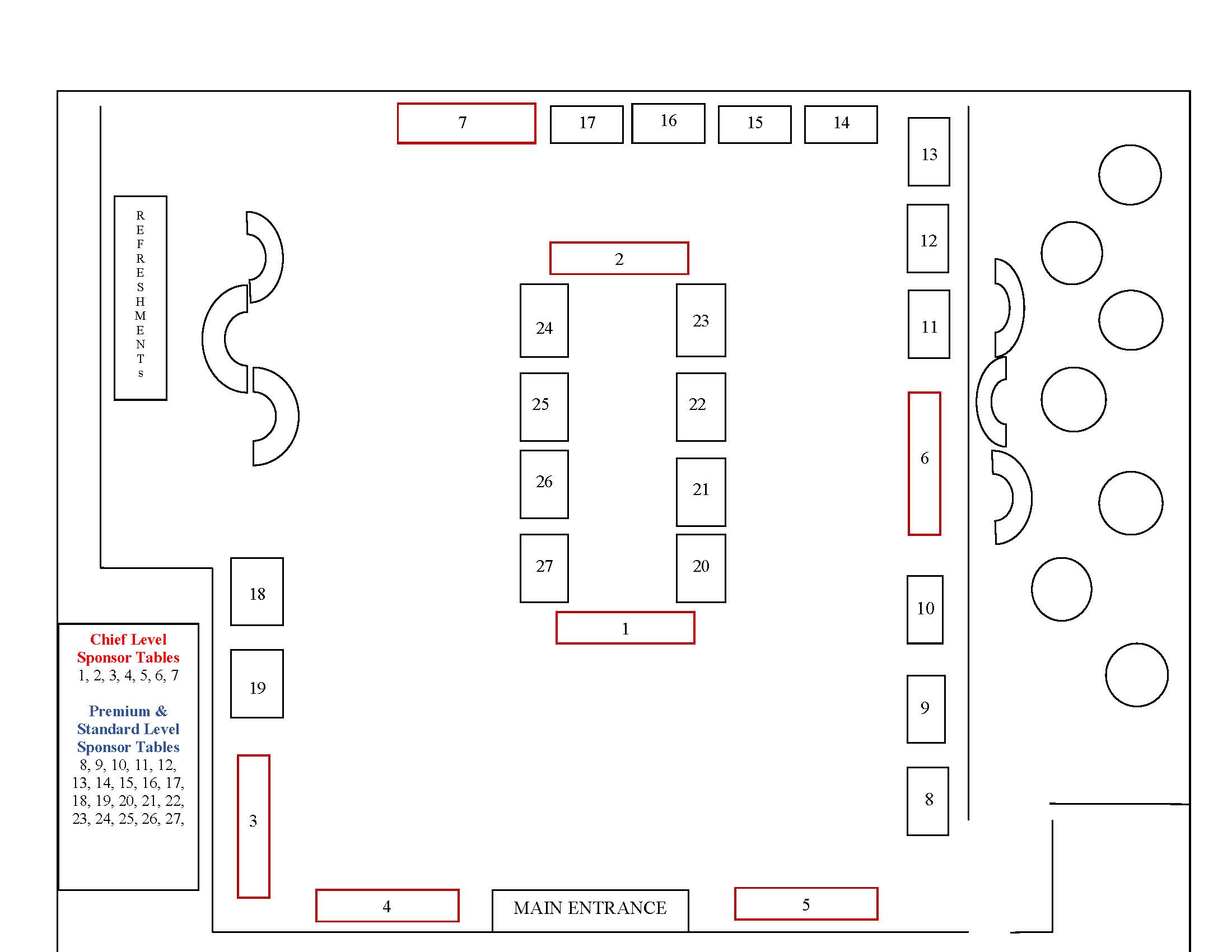 Due to social distancing and spacing requirements, table numbers and locations may not reflect actual locations.

Chief Level Sponsors

Premium & Standard

Table 1. SAFE-T*

Table 2. Fire & Safety Services*

Table 3. Turn Out Uniforms*

Table 4. National Life Group

Table 5. NJ Fire Equipment*

Table 6. Firefighter One

Table 7. Absolute Fire

TBD Mid-Atlantic FIRE & AIR

TBD Campbell Supply Co.

Table 8. California Casulaty*

Table 9. Air & Gas Technologies

Table 10. Witmer Public Safety Group*

Table 11. V.E. Ralph

Table 12. _______________

Table 13.________________

Table 14. Hang Dry

Table 15. New Jersey City University*

Table 16. Servpro

Table 17. Police & Fire Credit Union

Table 18. ABC Emergency Rentals

Table 19. Continental Fire & Safety

Table 20. VCI Ambulances*

Table 21. ________________

Table 22. ________________

Table 23. ________________

Table 24. ESI / Holmatro

Table 25. First Priority Group

Table 26._________________

Table 27.New Jersey Emergency Vehicles*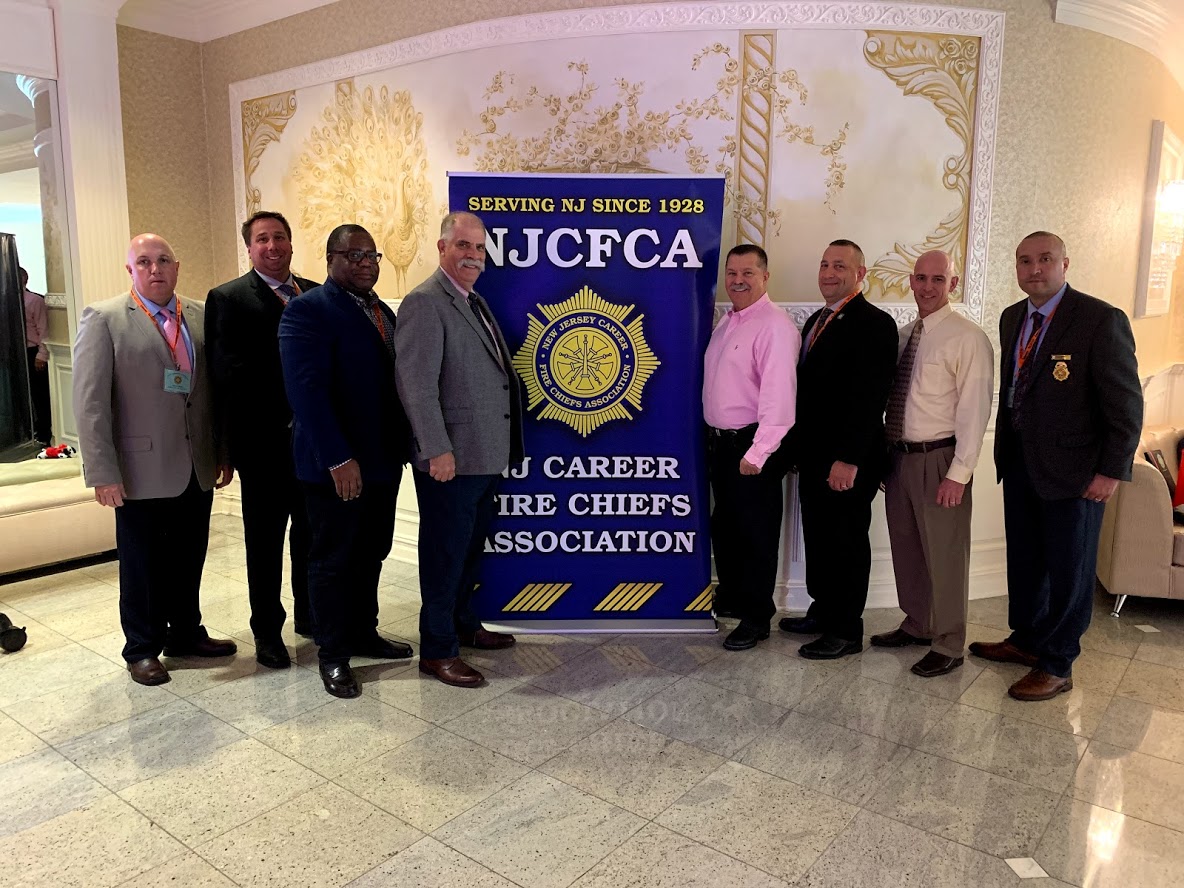 2019 Executive Board* Treasuerer Nelson Wiest, Secretary Alexander Coulter, 2nd Vice President Antonion Gary, Deputy Chief James P. Smith (Ret. ) Philadelphia PA Fire Department, Dennis L. Rubin Fire Chief, Upper Merion Township, John M. Colucci, President, William Eaton, 1st Vice President, Robert Echavarria, Sergeant at Arms
WHERE: The Wilshire Grand Hotel in West Orange, New Jeresy 07052 call 973-731-7007 or visit www.thewilshiregrandhotel.com for reservations.
WHO SHOULD ATTEND: This event is designed to assist today's Fire Service Leaders with a host of challenges, from the every day trials and tribulations they encounter, to helping them prepare for the future. This program will benefit: Fire Chiefs, Assistant Fire Chiefs, Deputy Fire Chiefs, Battalion Fire Chiefs, Administrative Officers, and Shift Commanders.
WHY ATTEND: Our Leadership event consistently answers the tough questions concerning the fire service leadership of New Jersey. Expert speakers with insight on how to effectively lead your department into the future. With issues and concerns surrounding today's fire service leaders, the NJ Career Fire Chiefs Association is working to become the voice of the fire service in New Jersey.
Keep an eye out on our Facebook page @NJCFCA for updates on next year's conference.
Interested in becoming a sponsor, please contact us at conference@njcfca.org
Page Last Updated: Oct 13, 2021 (04:31:36)